Are you looking for a speaker for a talk or presentation for your gardening club? If so you might like one of my talks? I can tailor a talk to suit specific requirements or a particular audience, just let me know what you need. My talks are based around my books and are illustrated via PowerPoint.
Garden Club Talk – The Secret Lives of Garden Bees
This is a popular topic and definitely a great subject for gardeners, nature lovers, wildlife groups or any society that offers talks for their community groups. If you want to learn more about the bees that visit your garden this talk is for you. I'll introduce you to some of the amazing bees that live and breed in and around our gardens and share some of their fascinating stories.
You'll meet some of our amazing solitary bees as well as some of our more common bumblebees. I'll talk a little about their lifecycles and what you can do in your garden to support the bees.
Plus I'll share some of the quirky behaviour of these precious creatures.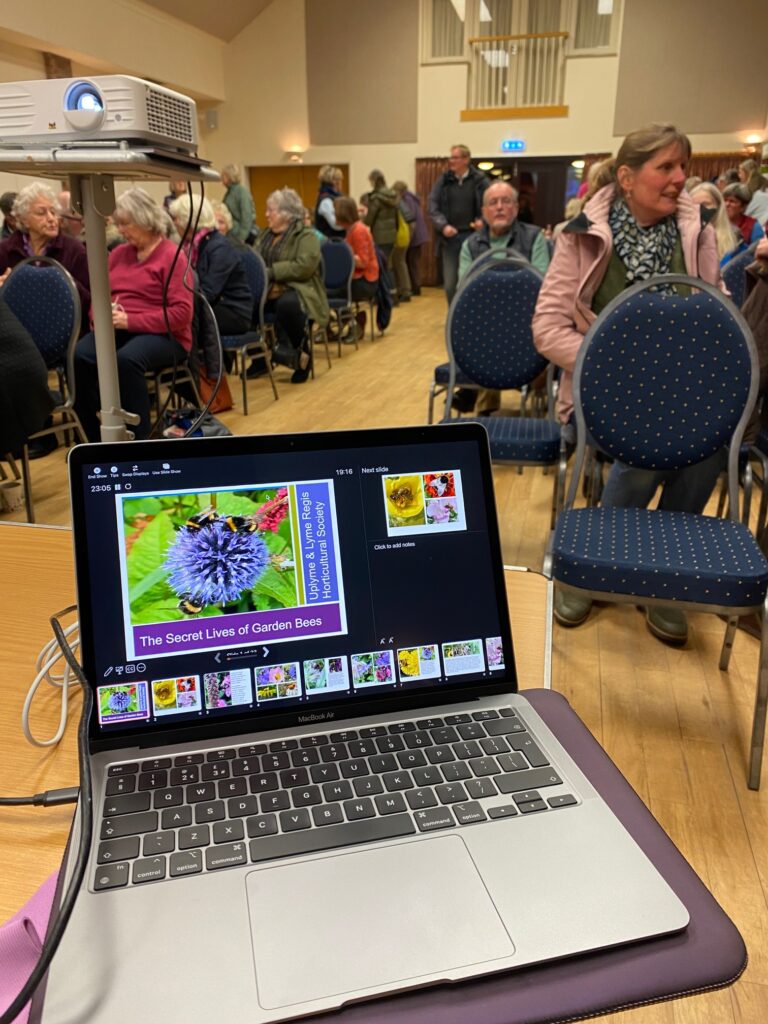 Garden club talk – Attracting Garden Pollinators
Would you like to know how to support our precious pollinators? Then this talk is for you.
I'm on a mission to unravel, demystify and explain the intricate balance of nature and to introduce everyone to the familiar and unfamiliar pollinators (especially bees) that live and breed in our gardens. This is a great chance to find out what to plant for pollinators and how to make small changes with big results in and around your garden to improve pollination and increase your fruit and veg harvest.
Pollinators are in trouble, but our gardens can help. Gardens represent a vast, varied 'nature reserve' packed with plants rich in nectar and pollen to sustain these delicate creatures. Learn about the role that pollinators play and how gardeners and people with gardens can do something to help attract and support them.
From butterflies (and their caterpillars) to surprising pollinators (moths, wasps, beetles flies and hornets) and of course including honeybees, hoverflies and bumblebees, this talk will offer an insight into their fragile existence, lifecycles and their vital role in the food chain and the natural cycle.
Feedback about my garden club talks
My latest talk was for the Uplyme & Lyme Regis Horticultural Society. There was an incredible turn out. The beautiful village hall was packed out and the feedback was just lovely.
Here are a few comments:
"Thank you for a brilliant talk last night in Uplyme. It's good to see that bees attracted such high levels of interest. We usually get a good turnout for our talks and you managed to attract an excellent turnout – I think were were probably at 80-90 people."
"Such a beautifully delivered talk."
If you'd like to book me to do a talk for your group please get in touch. You can contact me via my contact page here (scroll to the bottom of the page), or via the Garden Media Guild here.