Would you like to learn a bit more about the bees in your garden? This summer I've been taking bee walks or bee safaris at some very special gardens around the UK, from RHS Wisley to Yeo Valley Organic Garden & Jekka's Herb Farm.
It can be a bee talk, with an illustrated presentation, or a bee walk or bee safari or a mixture of all of these. To be honest I get such a buzz out of sharing the stories of our amazing bees that I really don't mind the format, I just enjoy sharing my love of bees and pollinators.
Bee walks are a great way to share a bit of bee love. First of all I can introduce some of the bees that you might see in your garden. Then I can talk about really good bee plants to grow and the important things you need to understand if you really want to help and support garden pollinators. And I'm always happy to answer your questions either as we walk, or in a dedicated Q&A session at the end.
Bee Walk/Bee Safari
On a bee walk or a bee safari, I like to safely catch a few bees as I walk and pass the little magnifying pots around so that people can see the bees close up. Don't worry there are air holes in the pots and I never leave them in there for long. No bees are harmed when I do a bee walk. In fact we often do bee rescues as we walk around the garden. Tired bees are a common sight in our gardens and there are easy ways to help them on their way.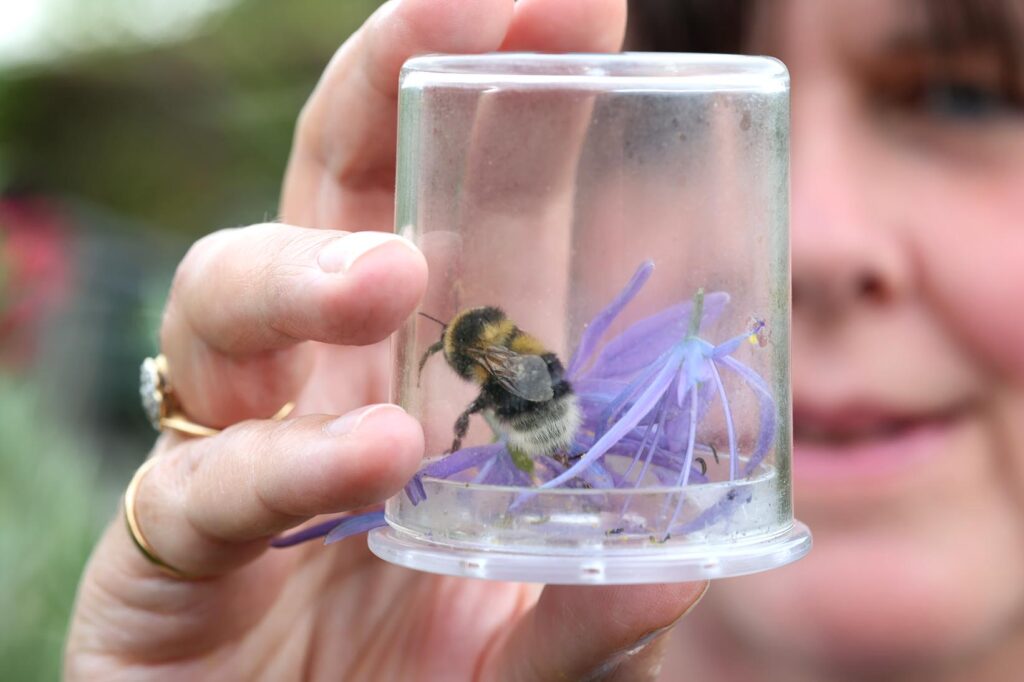 Nature Table
I've got a lovely nature table that helps me to tell some of the stories about our garden bees. It includes some real bees that you can look at under a magnifying glass, bee cocoons, nesting materials, and all sorts of other things. I've even got a pot of Bee Poo and a Lego Bee, which the kids really love. It's a great conversation starter and ideal if the weather is unkind and we need to shelter before or after a bee walk.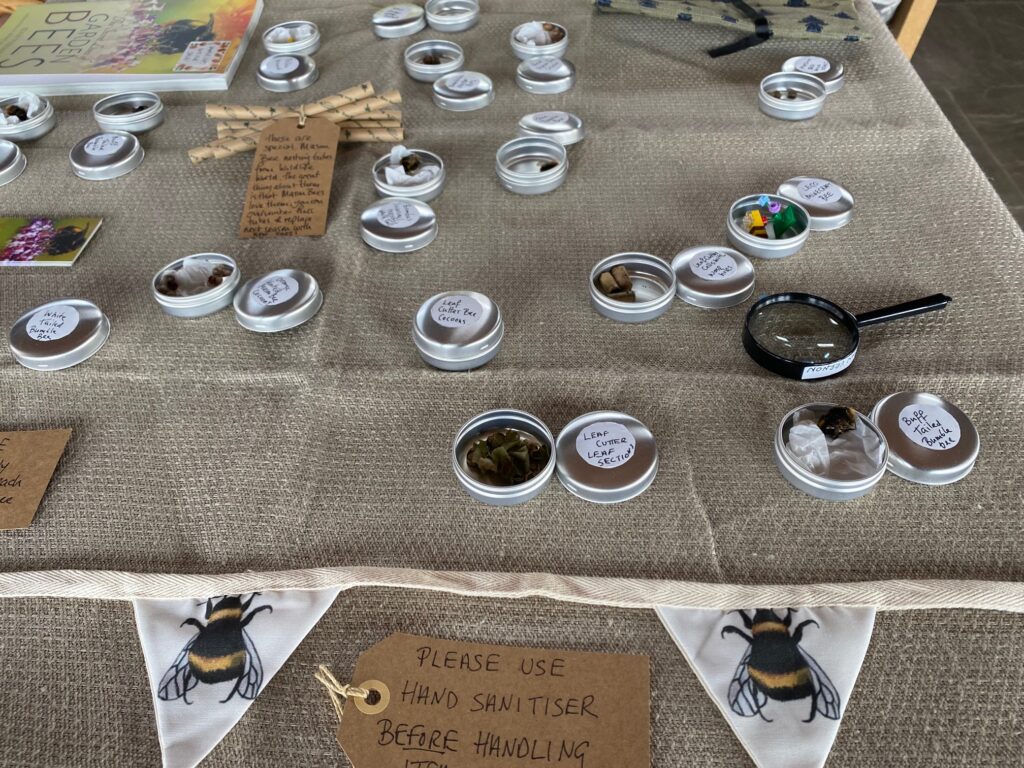 Book a bee walk/talk
I'm now taking bookings for 2024 so if you would like me to give a talk or take a walk around a lovely garden near you, please get in touch. You can contact me on Twitter (@thegreenjeanie) and InstaGram (@addicted2bees), or by using the direct contact message sender on my About page which will send your message to my email inbox.
Contact Me
If you need to get in touch there is a 'contact me' facility at the bottom of my About page here. Or if you follow me on Twitter or InstaGram you can message me there.
Happy Customers
Last summer (2022) I worked at RHS Wisley over the SuperBees event at half term for nine full days. I spent two full days at The Botanic Gardens of Wales doing Bee Walks and Talks, plus Bee Tours at Jekka's Herb Farm and Bee Safaris at Yeo Valley Organic Gardens and The Ilminster Literary Festival.
Here's what one happy customer said:
"What a great day out at Jekkas.
Jean Vernon and her knowledge of bees is simply outstanding. If thought you knew a little about bees then you must visit Jekka's and and listen to Jean; down to earth, easily understood and simply makes you fall in love with the solitary bee, a great time thank so much." Mark.
This summer (2023) I tutored two workshops for adults at RHS Wisley, helped project manage the Pollinator Festival at the National Botanic Garden of Wales, took bee walks at Jekka's HerbFest and open days, and hosted Bee Safari's at Yeo Valley Organic Gardens. I'll be at RHS Wisley in August supporting the RHS/Aardman MiniBeast Hunt with Lloyd of the Flies, teaching the children about mini beasts.
I am also doing illustrated talks for Garden Clubs and Horticultural Societies.