Delighted to see my feature about supporting garden pollinators in the Daily Telegraph today.
Power Moves for pollinators is packed full of advice for gardeners to transform their patch into a haven for pollinators. With hints and tips from some esteemed experts the article features some 'ordinary' people doing extraordinary things to help save and support our pollinators.
With some really great research from PhD student Nick Tew offering some really powerful advice about what to grow to make a real difference.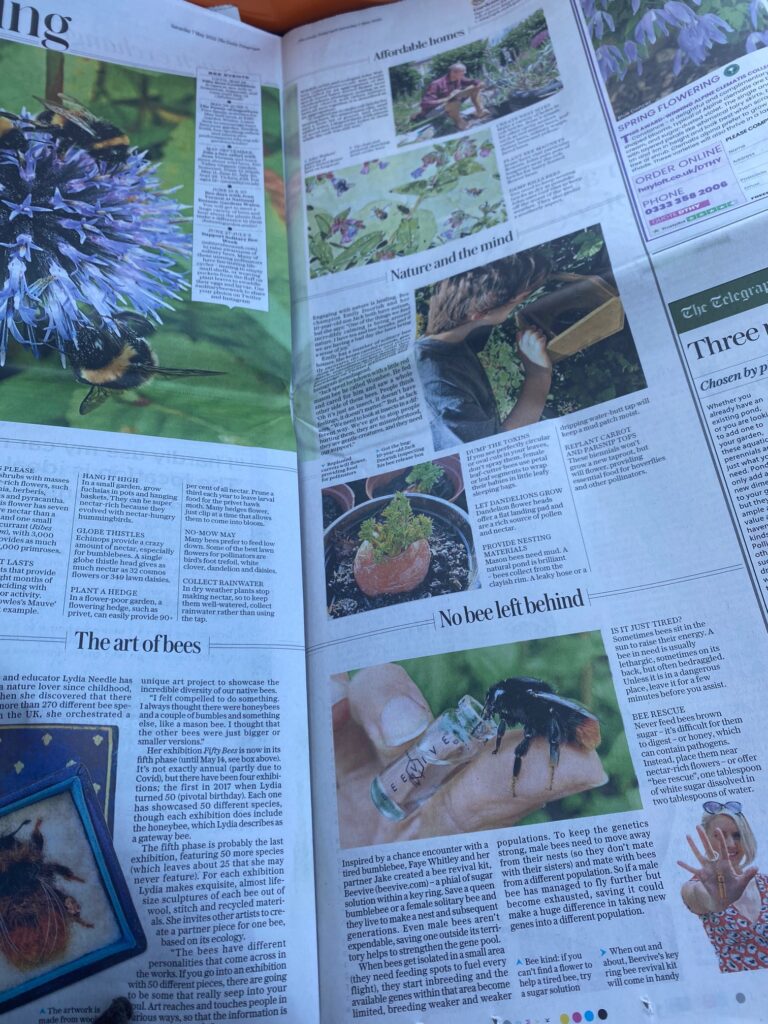 There's an interview with entomologist and artist John Walters who sketches and draws our pollinators on the wing and offers some great insights into making cobb bricks for the Hairy Footed Flower Bees. Plus some advice and insights from the bee box King, George Pilkington whose children wanted to know what those solitary bees were doing inside the insect house. Nurturing Nature inspired by nature, driven by science.
Faye Whitley and her partner turned a chance encounter with a tired bee into small, award winning business, BeeVive, while artist Lydia Needle crafts life-like felt bees from silken threads, golden twine and wool for her incredible FiftyBees project.
But it's the slow, smouldering love of bees from Jack Doorish and mum Emily that really makes this feature stand out. Jack's heartfelt plea for us all to notice and care for the little things fills my heart with joy. But what made me cry was his mum's post on social media thanking his teacher for letting Jack share his five minutes of fame with his peers and inform them about the importance of our pollinators. Go Jack Go. The article is online here, Power Moves for Pollinators. :
Please read it share it and send it into orbit. Thank you.